Have you ever wondered why the dentist will say it is necessary to have a crown on a tooth when you thought it might have just been a small cavity that needs to be filled? When you have a cavity, there is decay within the tooth that needs to be removed in order for the bacteria to stop spreading. The dentist will drill into the tooth to extract all the bacteria and damaged portion of the tooth, but sometimes, the damage is so severe that a crown is needed.
In some cases, a filling could be placed in specific instances where a crown would be preferred, but the problem is that there is not a sound foundation for the filling material to be placed upon, which causes the tooth to be less likely to last. The crown is a long-term solution to decay that has been caused by bacteria eating away at your teeth.
 As seen in the picture below, you need a strong foundation that the crown is placed upon. If a filling were to be placed over the tooth that has the decayed tooth shaved away, it would not be as strong and sturdy as a crown. The crown holds onto the remaining structure of the tooth and is cemented into place; essentially making it a part of the tooth again!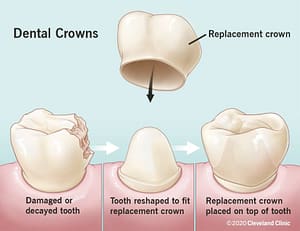 CONTACT US FOR MORE INFORMATION
MyDentalTampa.com wants to make you smile.
mydentalflorida@gmail.com
Office Call: 813-908-3636
Office Text: 813-624-5036
Or find us on Facebook or Instagram
Instagram: @mydentaltampa